See how Mnemotrix Systems, Inc. assisted AHC with GPR in unearthing dimensions of the Royal Palm Hotel, and determining where to find natural cavities in which ancient Tequesta Indians may have stashed grave items, in the One Miami Pre-construction Archaeology Project

Posted in the Sun-Sentinel, South Florida, April 21, 2004
Copyright © 2004, South Florida Sun-Sentinel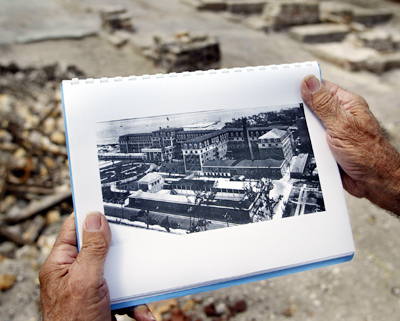 Checking in
A photo shows the Royal Palm Hotel in its prime. The luxury hotel, built by Henry Flagler in 1897, was a surprise discovery to archaeologists who expected to turn up only Tequesta Indian artifacts at the downtown Miami site. (Staff photo/Robert Mayer)
Archaeologists hurry to excavate remains of Henry Flagler hotel in Miami
By Noaki Schwartz
Miami Bureau
Posted April 21 2004
MIAMI -- A team of archaeologists has opened a window to an era when well-heeled industrialists Andrew Carnegie and John D. Rockefeller traveled to a young Miami, lured by a new hotel that was the gem of its age.
A handful of archaeologists have spent the last year gently digging under a downtown parking lot in the middle of high-rise hotels and the Interstate 95 on-ramps. They've uncovered parts of Miami founder and railroad magnate Henry Flagler's once magnificent Royal Palm Hotel -- from the ash pits where the boilers were fired up and the pathways that led to the workers' quarters, to patina-covered skeleton keys that once opened those rooms. They've also discovered evidence of the area's first settlers, the Tequesta Indians.
It has become South Florida's largest archaeological project, said Robert S. Carr, the excavation's archaeologist.
"We knew we were going to find Tequesta artifacts, but not as much as we did. And we didn't know we were going to find that the hotel was still there," Carr said. "I thought the hotel was destroyed."
Flagler built what was then a riverfront hotel in 1897. According to historian Paul S. George, the hotel that offered every guest an attendant was a draw for wealthy northerners. Many arrived at one of Flagler's railroad stations, conveniently located a short walk from the hotel.
"That hotel was the talk of this town, and the talk of a lot of other towns," George said. "It was such an anomaly. This was a little town that only had nine people as late as 1895. Then the railroad comes the next year, 800 people, and it was incorporated. The difference was that this city had a five-star hotel owned by one of the princes of the gilded age."
Three decades later, in 1926, the city's main social draw was badly hit by a hurricane. After it suffered further damage in a fire, the Royal Palm was finally torn down in 1930.
Until recently, the Royal Palm's remains sat untouched, paved over by a parking lot. Eventually developers took a renewed interest in the nine-acre lot north of the Dupont Plaza hotel. The site is will soon be home to One Miami, a $640 million project that will include a hotel, condominiums and retail shops.
But before any new construction can begin, the city required a survey by archaeologists from the Archaeological and Historical Conservancy. Since April 2003, a half-dozen workers have been carefully shaking buckets of earth into two giant sieves like miners panning for gold.
More than two feet below the surface, they began to find what they were looking for -- the Royal Palm Hotel.
Sifting sands
Field technician Winsy Dunwody sifts in search of artifacts of the Royal Palm Hotel in downtown Miami. Workers are hurrying to finish before construction starts on a $640 million condo-retail project. The discovery of the hotel, which stood from 1887 to 1930, was a surprise. (Staff photo/Robert Mayer)

On good days, they've turned up what looks like black asphalt to the untrained eye. In these handfuls, the archaeologists see shards of bone, ceramic fragments and rusted metal bits.

The backbreaking work has been helped significantly by a ground-penetrating radar system. A similar device that was used to find the hole where Saddam Hussein hid in Iraq is now helping these archaeologists uncover the choicest pockets to dig, said Michael Pincus, on-site supervisor for a Coral Springs company that operates the radar.

The system is attached to what looks like a homemade vacuum cleaner and pulled along the ground to collect radar signals. The signals are collected, processed by a computer and turned into a three-dimensional image, similar to the way a magnetic resonance imaging system, or MRI, works.

Pincus said the collected images can show a vast cross-section of the site. By looking at these images, the archaeologists have been able to peer deeper underground and look further back in time.

The area where the Royal Palm once stood has long been known as part of the Tequesta settlement of more than 10,000 years ago. Using the radar images, archaeologists can look for sinkholes where the Indians once buried their dead, with the hopes of finding some graves.

"Since they know where the Native Americans worked with the earth, how they built things, dealt with their dead and garbage, they're able to better tell where to begin their digging," Pincus said. "They don't waste time."

So far crews have excavated more than half of the parking lot over the hotel and have turned up the building's west wing and courtyard. On Tuesday, the archaeologists presented their findings to the City of Miami Historic Preservation Board, including artifacts that will eventually be on display at the Historical Museum of Southern Florida in Miami.

George, a Miami-Dade College history professor who has been to the dig several times, said he can't wait to see the completed collection.

"It's very significant," he said. "It's the fist time we've had a dig there since they leveled the land 100 years ago. It gives us a better idea of how large the Tequesta settlement was and what the exact locations of the hotel are."

Noaki Schwartz can be reached at nschwartz@sun-sentinel.com or 305-810-5004.

Copyright © 2004, South Florida Sun-Sentinel