About Us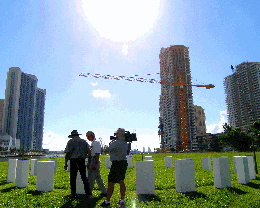 The Archaeological and Historical Conservancy, Inc. (AHC) is a Florida not-for-profit organization dedicated to the investigation and preservation of archaeological and historical sites across Florida and the Bahamas.
In 1985, AHC began its first project with excavations at the Cutler Fossil site in Miami-Dade County, and subsequently has documented over 1000 sites throughout Florida. Projects have included investigations at the Miami Circle, Ten Thousand Islands, the Ortona Canals, Fort Pierce, Okeechobee Battlefield and Fort Van Swearingen. To our expertise on prehistoric Florida and Seminole War sites we have added investigations in the Bahamas as a key element in our research program.
The Archaeological and Historical Conservancy conducts archaeological and historical assessments, surveys, investigations, excavations, and monitoring. These services are provided for public agencies, developers, businesses, and museums. The Conservancy also provides site management plans, tours of sites, and exhibit design and development.
AHC is a General Services Administration contract holder. To see our catalog go to www.gsaadvantage.gov, search for our contract number GS-10F-0113W under services, and click on View Contractor Information.
Recent Projects
These are some of our recent and current projects. Learn more about them on our Projects Page:
One Miami
Royal Palm Hotel
Okeechobee Battlefield

Ortona Canal
Miami Circle
Long Key Exhibits
Professional Profiles
We are a team of experts with over 30 years of experience. We are thoroughly familiar with the lay of the land in Florida and the islands of the Bahamas. We are experts on cultural resource preservation compliance with reviewing agencies.
Our professional associations include experts in state-of-the-art technologies supporting geoarchaeology. In Florida we team with Mnemotrix Systems, Inc. for GPR Survey technology and 3D visualizations of field studies.
Contact our staff and get involved with Florida archaeology!